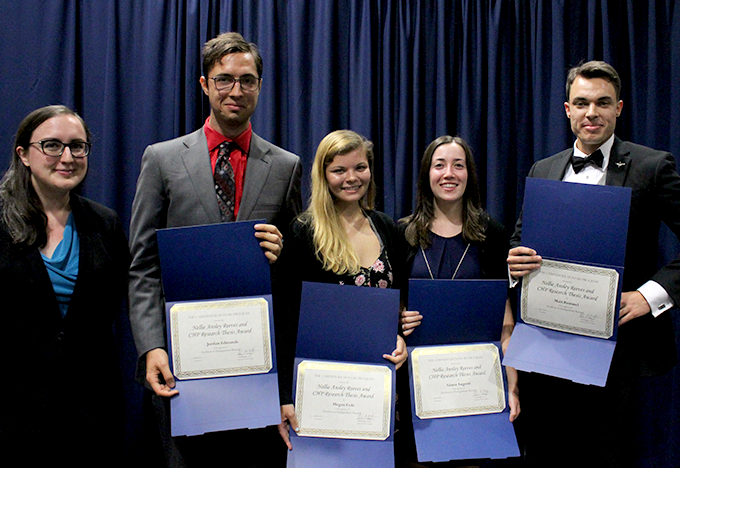 The undergraduate experience at UCI is enriched by numerous opportunities for individual and collaborative research, and the UCI Libraries are available to help students every step of the way. 

The Nellie Ansley Reeves Award Endowment was established by Nellie Ansley Reeves, a generous supporter and friend of the UCI Libraries until her passing in 2000. For over 20 years, the Nellie Ansley Reeves Award endowment has funded prizes to UCI students to honor Reeves' wishes to involve students in scholarly research and writing. 

For the past three years the libraries have been pleased to collaborate with the Campuswide Honors Program to offer four awards for outstanding Honors Theses. On June 1, 2018 the awards were distributed at the Campuswide Honors Senior Banquet. 

In "Does Shifting Maltreated Children's Tendency to P erceive Ambiguous Facial Expressions as Angry Influence Subsequent Aggression?," Gianna Angotti sought to test whether shifting maltreated children's tendency to view ambiguous expressions as angry influenced their subsequent aggressive behavior. The research used a computerized Positive Emotion Training task and subsequent feedback to try to shift behavior. The intervention was affective at reducing anger, especially among boys and adolescents; the findings have implications for the development of novel interventions aimed at reducing aggression in a population at high risk for such behavior. Angotti worked with faculty mentor Professor Jodi Quas of the Department of Psychology and Social Behavior. 

In "Biomemetic Spatially Distributed Sequential Stimulation for Fatigue Reduction," Jordan Edmunds proposed a new implementation of functional electrical stimulation (FES), a technology used to address spinal cord injury and recovery. Conventional FES leads to rapid muscle fatigue, and pre-injury levels of muscle endurance cannot be reached. This study used a biologically-inspired approach to reduce fatigue, where stimulation is alternated over long timescales between large segments of the quadriceps. This approach resulted in a 40% reduction of the fatigue rate and a doubling of time to fatigue compared to conventional electrical stimulation. This may allow for wider clinical application for spinal cord injury patients. Edmunds worked with faculty mentors Professor An Do of the Department of Neurology, and Professor Zoran Nenadic of the Department of Biomedical Engineering. 

In ""Our Scientific, Matter-of-Fact Nineteenth Century": Post-Imperialist Anxieties and Psycho-Sexuality in Bram Stoker's Dracula," Megan Cole examined Bram Stoker's 1897 Gothic horror novel Dracula through a historicist and psychoanalytic lens, combining the novel's anxiety over the collapsing British Empire with the characters' pervading fear of deca dence and sexuality. The study explores how Stoker's licentious vampires represent to his British protagonists not only the encroaching "East", but also the loosening sexual mores of the late-nineteenth-century Decadence period. The study also suggests the protagonists' hatred of the vampires is a projection of their own guilt and shame for possessing the very same cultural qualities of which they accuse their enemies - unbridled sexuality and the desire to colonize. Cole worked with faculty mentor Professor Ellen Burt of the Department of English. 

In "A Human-Competitive Artificial Intelligence Agent That Plays the Board Game of Barca," Matt Rommel created an Artificial Intelligence agent to successfully play a board game against humans. The project used analysis of the game's strategy to program a board evaluation function, which works by identifying tangible strategic attributes and weighting each attribute by its relative importance, allowing for a determina tion of the best move. The thesis also explores several additions and optimizations for this approach and reviews their effects. The result was an agent that no human has been able to consistently defeat while on its maximum difficulty setting. Rommel worked with Professor Sameer Singh of the Department of Computer Science. 


Education & Outreach Librarian Nicole Helregel, who is the liaison to the Campuswide Honors Program, remarked:"It is such a pleasure to read such high-quality submissions every year. UCI students are doing in-depth projects that demonstrate their information literacy, critical thinking, and clear writing." She emphasized that she and other librarians are available for individual consultations on such topics as finding and documenting sources and conducting a comprehensive literature review. 

Kudos, Campuswide Honors Program Award Winners!