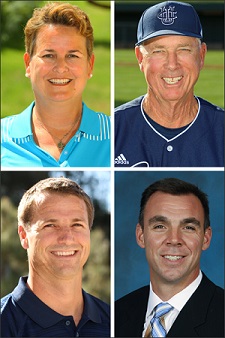 The UCI Libraries Announce
The Opening of Our 50th Anniversary Fall Exhibit
Ready, Set, ZOT!: UCI Athletics Since '65
Featuring a panel discussion with UCI Head Coaches:
Russell Turner, Men's Basketball
Julie Brooks, Women's Golf
Dan Klatt, Women's Water Polo
Mike Gillespie, Men's Baseball
Moderated by:
Mike O'Sullivan, UCI Athletics Sportscaster
Monday, September 28, 2015
5:30 pm
Crystal Cove Auditorium, UC Irvine Student Center
Reception and exhibit viewing to follow immediately in Langson Library
Reservations requested by September 25
(Walk-in guests are welcomed)

The UCI Libraries announce the opening of our 50th Anniversary exhibit titled, Ready, Set, ZOT!: UCI Athletics Since 1965, on Monday, September 28th at 5:30 p.m. at UCI Student Center, Crystal Cove Auditorium and Langson Library, Holden Room. Ready, Set, ZOT! documents the dedication to excellence, commitment to success, and perseverance in the face of adversity that built today's UCI 'Eater Nation.
When UCI opened its doors in 1965, students had the opportunity to play on NCAA Division II teams in basketball, golf, water polo, swimming, sailing, tennis and crew. The Anteater mascot was fresh off the press, and most of the athletes were freshmen and sophomores. Fifty years later, the UC Irvine Athletics Department proudly claims over 500 All-Americans, 53 Olympic participants, and 3889 Scholar-Athletes as Anteaters on men's and women's teams in twelve sports.
The exhibit will chronicle UCI sports history, and tell the story of how a young campus achieved such impressive results through rare photographs, archival documents, and items from the UCI Athletics Department. Visitors will experience the inspiring victories, improbable come-backs, heart-breaking losses, conference and national championships, and the incredible school spirit that made it all possible.
Opening night panel speakers include Russ Turner, UCI Men's Basketball, Head Coach; Julie Brooks, UCI Women's Golf, Head Coach; Dan Klatt, UCI Women's Water Polo, Head Coach; Mike Gillespie, UCI Men's Baseball, Head Coach; and will be moderated by Mike O'Sullivan, UCI Athletics Sportscaster.
About our speakers:
Last season, Russ Turner led the UCI men's basketball team to its first NCAA Division I Tournament as the Anteaters won the Big West Conference Tournament for the first time in school history.
Julie Brooks, the second head coach in history of the UCI women's golf program, has led her teams to two Big West titles, a NCAA Championship appearance in 2007 and 2009, and has mentored two All-Americans.
Entering his 12th season as head coach for the UCI women's water polo team, Dan Klatt is known for his guidance with the 2015 Anteaters in their fifth place finish at the NCAA Tournament and No. 5 final national ranking, the program's highest mark. Finally, Mike Gillespie has kept UCI among the nation's elite men's baseball teams with over 1,000 Division I career wins and five trips to the NCAA postseason.
The program will be followed by a light reception and exhibit viewing. The event is free and open to the public. Space is limited; reservations are first come, first served. Please go to http://partners.lib.uci.edu\athletics\rsvp to make an online reservation. For further information please call 949.824.4651 or email partners@uci.edu.
The UCI Libraries Exhibits Program promotes the diverse holdings and scholarly and cultural value of the Libraries' collections to the campus and community.
Ready, Set, ZOT!: UCI Athletics Since '65 is curated by Head of Education and Outreach Catherine Palmer and Archivist for University Archives Laura Uglean Jackson. The exhibit will be on display through April 2016 in the Langson Library Muriel Ansley Reynolds Gallery during regular library hours.