LibX is a Firefox and Chrome extension that provides direct access to Library resources. If you have trouble installing LibX, see below.
General Toolbar (includes: Library Search, Melvyl, Research Guides , Journals A-Z, Academic Search Complete, PubMed, Google Scholar)
Toolbar for Medicine (includes: Library Search, Melvyl, PubMed, CINAHL, Medline Plus, Google Scholar)
Special Instructions for Chrome: First install the appropriate toolbar from above.  A yellow notice at the top of the browser should appear, "Extensions, apps, and user scripts can only be added from the Chrome Web Store."  Click the "OK" button, this should open the Chrome Store. In the search box at the top of the Chrome Store type, "LibX" and then press enter. Choose the first option: LibX for Google Chrome by clicking on the blue +Add to Chrome, a pop-up should appear, click "add." The LibX Toolbar will then be installed, since you already installed the file the appropriate toolbar will automatically load. If do not see a UC Irvine addition, please see the section, "After Installation" below.
After installation: If the UCI LibX toolbar you installed does not appear, you may have to "select a LibX edition." Type "Irvine" and select the UC Irvine Edition or the UC Irvine Medical Edition.  If toolbar does not work as expected you may need to update your browser.
Search UC Irvine resources from your browser: Click on the LibX icon at the top of your browser to search Library Search, Melvyl, PubMed, Google Scholar, and more.  Access to Academic Search Complete and PubMed is also available via the LibX toolbar. To use these resources from off-campus you will need to log-in via Connect from Off-Campus prior to using the toolbar.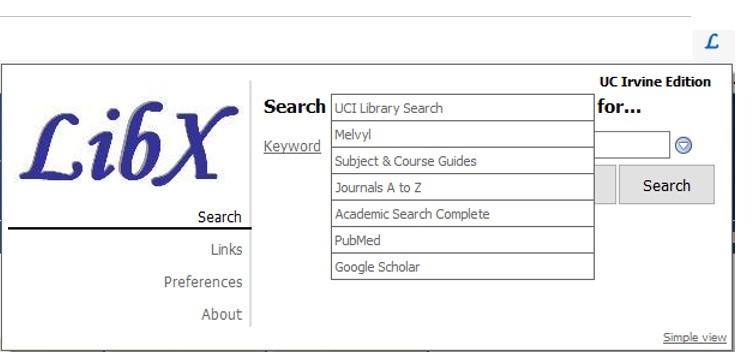 Add right-click menu options for easy searching: LibX adds options to your browser that you can see from the right-click menu (control-click on a Mac). Highlight text on a web page or PDF and right-click to see your options. Use the Preferences link in the LibX toolbar to customize the right-click menu, set it Library Search, one of the databases or Google Scholar. The menu will change, depending on what text is highlighted. For instance, if an ISBN is selected, you will be offered appropriate ISBN searches. Currently recognized are CrossRef DOIs, ISBNs, ISSNs, and PubMed IDs.

Support for linking: UC-eLinks: Keeps track of the electronic journals UC Irvine subscribes to and points you to the appropriate publisher site – most of the time linking you directly to the full text article.  UC-eLinks is based on the OpenURL standard and works well in connection with Google Scholar.
Try the example below; follow the link for the Google Scholar search.  Notice that the UC-eLinks link leads you to the full-text for journal articles.  Search the catalogs for books, or place an interlibrary loan request for items not owned by UC Irvine.  To use UC eLinks in Google Scholar from off-campus you need to use Connect from Off-Campus.
Support for Google Scholar: LibX uses Google Scholar to search for articles and directs you to the electronic copy subscribed to by the Library.  Select a citation, then drag-and-drop it onto the Scholar button on the toolbar.  You can use this feature even from inside a PDF file, which makes retrieving papers referenced in a PDF file a snap.  If you are off campus, you'll need to set your Google Scholar preferences for "Library Links" to include "University of California, Irvine (UC-eLinks)".  To activate this link in the Firefox profile in which LibX is installed: Activate Google Scholar Preferences.  More information about Google Scholar preferences can be found in the LibX FAQ.  Drag and drop is not currently supported in Chrome.
This extension works with Firefox and Chrome.  Release 1.0 works only with Firefox 1.0.x. Release 1.0.2 works with Firefox 1.5.0.x. Release 1.1 and 1.2 works with Firefox 1.5.0.x and 2.0.0.x. Release 1.5 and up with Firefox 3.x - 6. Release 2.0 and up with Firefox 5 and up, and Google Chrome. If Firefox displays a message "To protect your computer, Firefox prevented this site... from installing software on your computer.", press the button labeled "Edit Options..." and click "Allow" add libx.org to the list of websites from which extensions may be installed.  Then click "Ok" and visit the "Install" link again.
Privacy:
By using this extension you may send the URL of pages you are currently visiting to the library's catalog server.  Such information is sent only if you are actively using the extension; it is never sent automatically.  If you wish to avoid this you must turn off the referrer URL by setting network.http.sendRefererHeader to 0 in your preferences.
In addition, you may be sending information such as ISBN and ISSN numbers to OCLC, DOIs to CrossRef's server, and PubMed IDs to the PubMed server in order to retrieve metadata information.  Use the LibX -> Preferences panel to turn these services off if desired.
Copyright:
LibX is distributed under the Mozilla Public License.  The copyright is held jointly by Annette Bailey and Virginia Tech.
For more information about LibX, visit the LibX Homepage.  LibX is available for customization by other libraries.