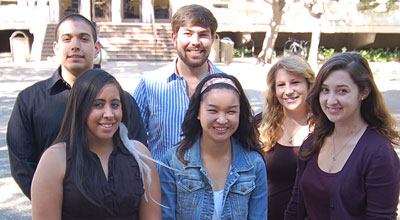 (left to right) Joseph-Martin Novelo, Irais Rodriguez, Daniel Kovell, Teresa Villaruz, Rachelle Plotkin, Sarah Marsh. (Not pictured: Joseph Hong)
Photo credit: Sage Kim
$250 Award:
Irais Rodriguez, for "English for the Children: Living Memories of Proposition 227 in California"

$200 Award:
Sara Marsh, for "Appropriation and Integration: British and Indian Painting and Photography during the 1857 Rebellion."

$100 Award:
Teresa Villaruz, for "Integration and Separation: Filipino World War II Veterans."
Joseph Hong, for "Towards a Saidian Reading: Ngugi Wa Thiong'o's Novel and the Dialogues of its Worldliness."
Daniell Kovell, for "The Times corresponds the American Civil War: 1861-1865."
Joseph-Martin Novelo, for "Law Enforcements Interaction with Homicide Cases: Factors Influencing Homicide Clearance Rates."

Honorary Mention:
Rachelle Plotkin, for "Narratives of the Vietnam War."