Name:
The UCI Libraries National Parks Photo Contest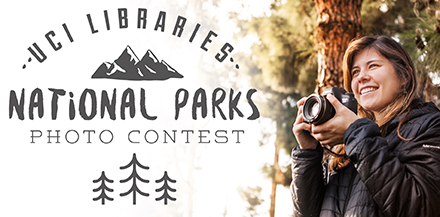 Open to:

Current UCI Students with valid UCI email address.  Student employees ARE eligible, staff and faculty are NOT eligible due to University policies.
Details/Rules:

Photos submitted must be from a NATIONAL PARK not a national monument, national wilderness, national forest or state park. 
Photos must have been taken within the last two years (from 1/1/15 to the present). 
Images must be submitted at full resolution at least 300dpi but not over 10mb, and not come from a phone as they may be used for print at the event. 
Images must be of scenery only.  Images may not contain people posed or are the general focus of the image. 
Images must be of a realistic portrayal of the scenery or subject and not appear to be overly "photoshopped".  Photoshopped, and dream-like fantasy images will not be accepted.
You may only submit 1 image using a valid UCI email address.
Photos can be submitted to ucilibrariesphotocontest@gmail.com

Please include a brief description of the photo including your full name, the national park location, time of day, and a rough date or time of year.
The submission period will be from 1/25/17 to 2/13/17
3 prizes will be awarded:
1st place $75 to the UCI Bookstore
2nd place $50 to the UCI Bookstore
3rd place $25 to the UCI Bookstore
Winners will be announced at the opening of the Science Library Exhibit: Our Majestic Lands, California's National Parks
The opening event will include food and a presentation from Al Baldwin, Vice Chair, National Park Foundation.

Winners will be announced at the aforementioned event and on the UCI Libraries Social Media channels.  Your images may be shown on social media throughout the duration of the exhibit and or be displayed at the exhibit.
More information about the opening night event can be found here news.lib.uci.edu/2017-winter-exhibit