Project Overview
LL 228 will see a substantial renovation this winter in order to support more active and collaborative forms of teaching, learning, discovery, and creation. The renovated room will feature a more flexible layout, with tables on wheels and six (6) wall-mounted TV screens. The primary layout of the room will be as a pod-based active learning classroom (see image below), but it can also be used as flexible event and presentation space. The six screens in the room can be configured to project the same content as the instructor's station, or they can project content independently of each other. The technology in the room will closely resemble what the students will experience in the active learning classrooms and collaborations spaces in the new Anteater Learning Pavilion.
Current LL 228 (October 2018)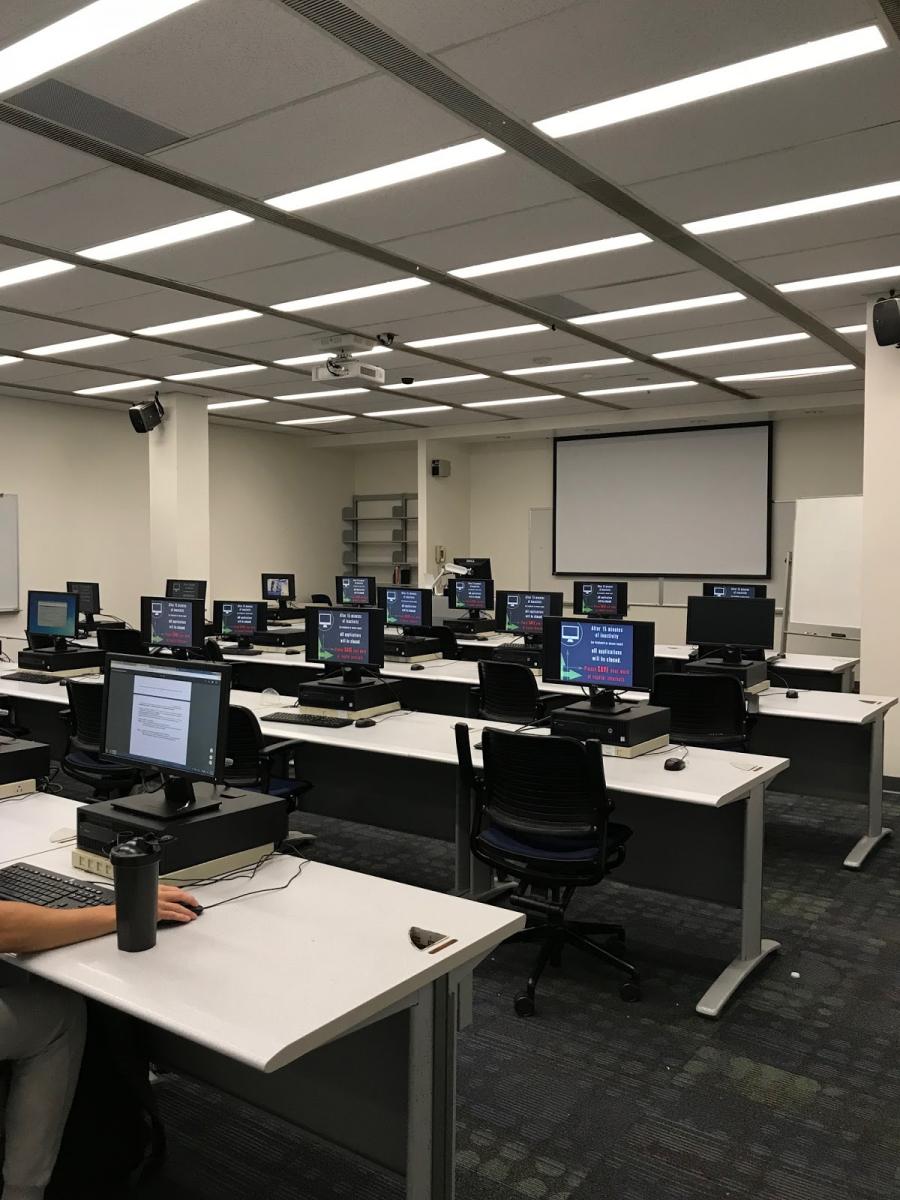 Current layout:
5 fixed rows with immovable tables
28 fixed desktop computers
One screen along the short wall furthest from doors
Challenges with current layout:
Screen visibility is poor
Inflexible layout limits types of instruction possible in the room
Space is not multi-purpose
Students frequently interrupt instruction to use back row computers to print
Future LL 228 (Coming January 2019)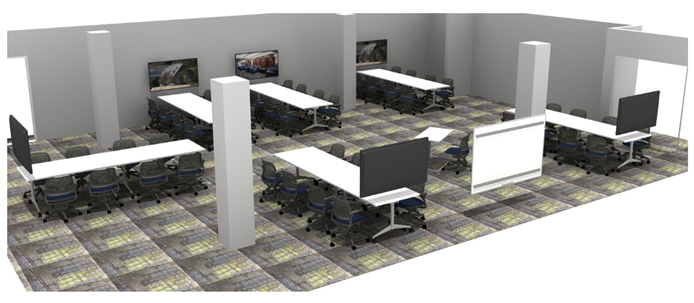 Room layout:
Twelve movable tables configured primarily into 6 "pods"
6 wall-mounted TV's for each pod
One screen along the long wall closest to LL 229
6 whiteboards (not pictured)
Capacity of 48 students, with added chairs
Ability to remove tables (and/or chairs) from room easily, making the space available for other types of events or presentations
Technology:
6 TV's can project the same content as the instructor's screen via HDMI
6 TV's can also be used independently of each other and the instructor's screen, enabling collaboration and active learning
6 whiteboards (not pictured)
24 Chromebooks available from the Langson Checkout Desk (in addition to 12 laptops from the kiosk)
Project Timeline
September - ongoing
December 17, 2018

Construction begins on LL 228

December 18, 2018

LL 228 Policy Review session 1 (10:00am, LL 570)

December 19, 2018

LL 228 Policy Review session 2 (3:00pm, SL 104)

January 3, 2019

LL 228 Training session 1 (1:00pm, LL 228)

January 4, 2019

LL 228 Training session 2 (2:00pm, LL 228)
They will be redeployed in other locations in the library. Some will replace aging (8+ years old) public desktop computers.
There are quick print stations on the counters across from the Express Check Out machines, and patrons can use any of our other desktops in the library, or use our wireless print service.
Many students have their own laptops or devices, and are bringing them to class already. For the students who don't have a device, we will offer our laptop and Chromebook checkout service right next to the classroom. Information literacy instruction can take many forms, several of which do not involve each student using a standard computer. In the event that a traditional computer classroom is needed, the MRC still offers two classrooms with desktop computers and an instructor's station.
UCI Librarians will be using this room to provide instruction on library research and information literacy to various classes.
UCI faculty who would like to request library instruction for their class should contact their subject librarian, or can submit their request via this form:
https://www.lib.uci.edu/instruction-request-form