Libraries-UROP Fellowship Award Winners Announced
The Libraries are very pleased to announce the winners of the 2005-06 UCI Libraries-Undergraduate Research Opportunities Program Research Fellowship Awards (LURF). Funded by the Nellie Ansley Reeves Endowment and UROP, LURF awards provide recognition and support to selected fellows whose research projects make significant use of library resources, demonstrate creative applications of research methodology, or focus on research about the scholarly information process. Congratulations to the following students who received awards of $500 each in support of their outstanding research projects. Their projects were selected from 118 proposals submitted for consideration.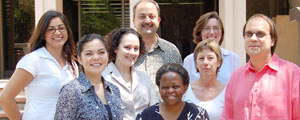 From top to bottom, left to right: Shokair Said, Cynthia Johnson, Rosalilia Mendoza, Jessica O'Connell, Cathy Palmer, Christina Zabat-Fran, Pauline Manaka, and Philip MacLeod. (Not pictured: Angelita Ramirez)

Angelita Ramirez for "From Barrio Street Gangs to Transnational Criminal Organizations: A Continued Qualitative Analysis of La Mara Salvatrucha," under the supervision of Professor Caesar Sereseres, with assistance by Research Librarian Philip MacLeod.

Rosalilia Mendoza for "Depression Among Latina Undergraduates: A Quantitative Study," under the supervision of Professor Jeanett Castellanos, with assistance by Research Librarian Pauline Manaka.

The project team of Christina Zabat-Fran, Jessica O'Connell, and William Beckley (not pictured) for "The Peculiarity of Perception and the Space Between: An Interdisciplinary, Collaborative Approach to Research in the Arts," under the supervision of Professor Kevin Myers, with assistance by Cynthia Johnson, Head, Langson Library Reference Department.
In addition, the following students received awards of $100 each for their research project submissions:
Mason Gibb and Amelia Acker for their project titled, "Reading Practices: Criticism Aiding Action."
Cynthia Cervantes for her project titled, "Heritage Language Instruction/Spanish for Native Speakers: The Construction and Consolidation of Cultural and Ethnic Identities in Chicano/Latino High School Youth."
Claudia Hernandez for her project titled, "Friedrich Nietzsche: The Use and Abuse of Nietzschean Will to Power in Nazi Ideology."
Pedro Ramirez for his project titled, "Local Motion: The Dynamic of San Bernardino's Ethnic Enclaves."
Diana Jou for her project titled, "Post-Political Ethnic Media: Cultural and Identity Politics in Contemporary Asian American Magazines."