About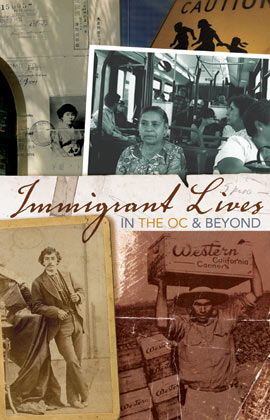 In recent years, Orange County has become widely known via television and other media portrayals as "The OC," creating perceptions of a largely homogeneous, wealthy populace. In reality, our county has experienced significant demographic change in recent decades, largely due to the impact of immigrants from throughout the world. This exhibit depicts the lives of immigrants -- and those around them -- in our region, with a focus on Orange County, from its beginnings in the late 19th century to today. Topics portrayed include the legacy of an often turbulent past, the changing face of the people, the contemporary debate over immigration, and issues affecting immigrant workers. The exhibit also highlights immigrants' own stories, the plight of the undocumented, public policy issues, and the role of gender in migration. Immigrant Lives is curated by Daniel C. Tsang, Asian American Studies, Economics & Political Science Bibliographer and Social Science Data Librarian.
A printed checklist containing the full text of the exhibit can be downloaded as a PDF file.
Please contact Sylvia Irving for further information about exhibits.