Remote access to the UCI Libraries' licensed online resources is available to current UC Irvine students, faculty & staff. In order to use these resources you must be "authenticated" (recognized as a valid user) by the UCI campus network.  Your login/password is your UCInetID. To activate your UCInetID, visit OIT's UCInetID Activation page. For further assistance, call OIT at (949) 824-2222 or visit the OIT Help Desk page.
UCI
UCI affiliates can use "UCI" and/or "UCIFull" session tunnels for accessing restricted campus resources and certain licensed materials. More information on UCI VPN sessions be found at oit.uci.edu/help/vpn/
Law
Law school community members can use the Law VPN to get to resources that are restricted to the law school. For Law VPN help, check with Law School Information Technology Services: www.law.uci.edu/its
The VPN address "vpn2.uci.edu" will NOT work for full access to Library resources.
For full access, connect to vpn.uci.edu and choose the group UCIFull: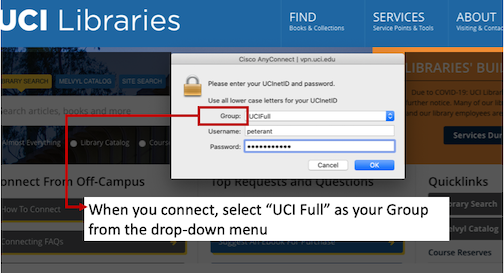 Software VPN
Desktop VPN
Important: UCI affiliates must use the address vpn.uci.edu and the "UCIFull" Group to access restricted campus resources and certain licensed materials.
Note: Users who have enrolled in DUO MultiFactor Authentication (MFA) will now receive an additional prompt to approve or to enter a DUO code upon logging into the VPN.  More information about DUO MFA can be found at https://www.oit.uci.edu/duo/.
Provides access to most licensed online resources.
Access non-web based online resources.
For Mac users, please use Chrome or Safari. Firefox may not work due to certificate issues.
Mobile VPN
W

orks with Android, Chrome OS, and iOS devices.
Provides access to most

licensed online resources.

Access non-web based online resources.
Web VPN
The following pages are not accessible via WebVPN:

Alexander Street Press
ARTstor
ASTM Digital Library
Digital Theatre Plus
E-Books in the ebrary/EBL collection
Factiva
Film Platform
Garland Encyclopedia of World Music Online
Kanopy Streaming Video
Naxos Music Library
Nexis Uni
Opera in Video
Pocket Atlas of Human Anatomy
PubMed
Reaxys
SimplyAnalytics
All titles in the SAE (Society of Automotive Engineers) Digital Library
Theatre in Video
UCI Libraries' Library Search
UpToDate
Web of Science (all databases)

Please note: WebVPN access to Bates' Visual Guide to Physical Examination is currently only available to those using the IE browser.
If you experience problems connecting we suggest that you try a different browser, unless noted otherwise here.  If you continue to experience problems, please contact OIT.
Can be used within the browser; does not require you to download additional software.