Last Modified May 3, 2021
Curbside and Front Entrance Pickup of library materials are available by appointment. Materials from Langson Library, Science Library, and OC&SEAA can be requested and picked up at Langson Library. Beginning March 29th, select MRC items including audiovisual equipment, media, laptops, and iPads may be requested and picked up at the MRC. NOTE:  The library buildings remain closed to the public.
Watch Peter the Anteater pick up his books.
Who can request materials to pickup?
Current UC faculty, students, and staff as well as community users with current library cards can request items. If your card has expired or you would like more information about how to get a library card, email circadm@uci.edu.
What can I request?
Items from Langson Library, Science Library, OC&SEAA, and select materials and equipment from the MRC can be requested through Library Search beginning July 27th. 
How do I make a request?
Once you find the item you wish, click Request Pickup and follow the prompts. You must be signed into Library Search to do this. Your request is not complete until you schedule a pickup appointment.
How do I make a pickup appointment?
Once we have located the item you will receive an email telling you your item is ready for pickup. Click on the link in the email and schedule your preferred location and time. You will receive an email confirmation with your scheduled appointment.
When can I pickup?
At this time the library can only offer pickups on Monday - Friday. Please keep in mind that we may have to reschedule reservations based on available staffing and/or circumstances related to COVID-19.
Where can I pickup?
All pickups will happen in the Libraries' designated parking stalls Lot 2, the Langson Library Front Entrance or the MRC.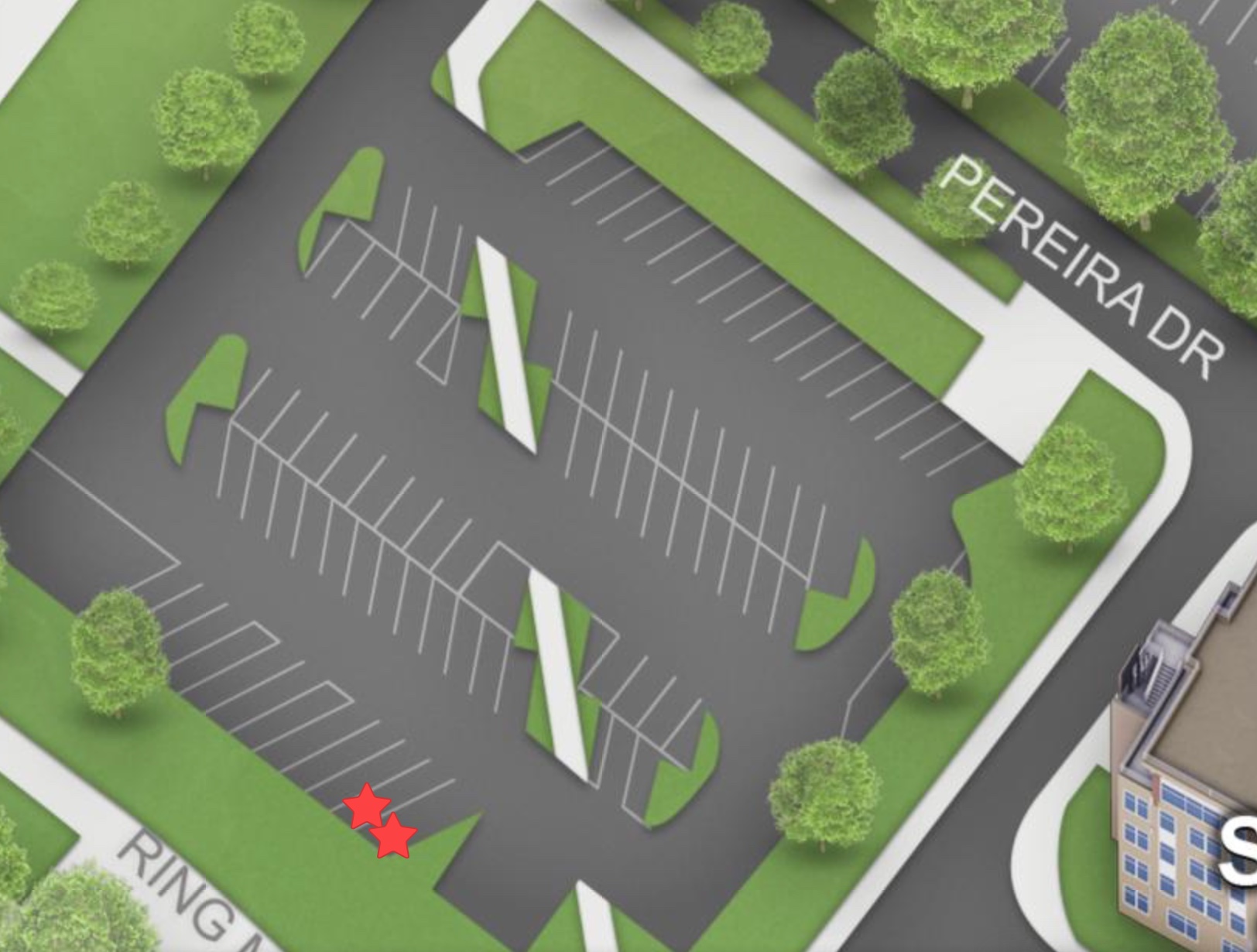 Lot 2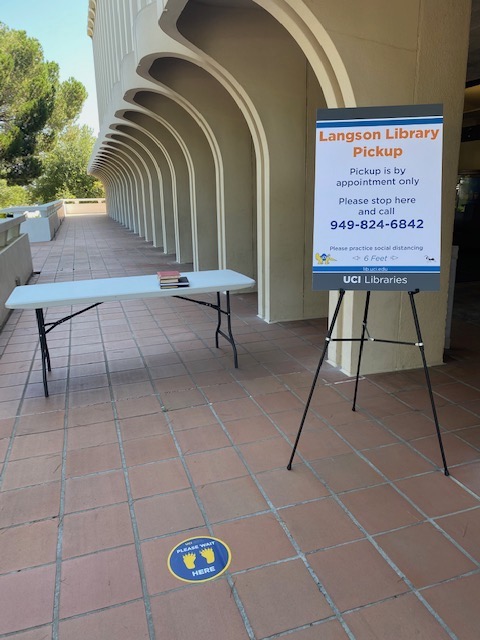 Front Entrance
What do I do when I arrive?
Call 949-824-6842. A library staff member will provide you with further instructions over the phone.
What are you doing to promote safety?
All staff and visitors on campus are required to wear facial coverings. All staff and visitors should practice social distancing.  Library staff will wear gloves when handling, processing, and delivering books to library patrons.
Is handling the books safe?
We are currently quarantining books for one week upon return. Please do not attempt to sanitize books yourself.
There is no option in Library Search to Request Pickup. What do I do?
Not everything is available to circulate. For these items you may be able to Request Article/Chapter Scan of portions of the item. If you have questions, email us at circadm@uci.edu.
The item I want is available but my request was cancelled. Why?
It is most likely this item is available through HathiTrust Emergency Temporary Access Service (ETAS). We are unable to loan and/or scan physical items within HathiTrust ETAS without jeopardizing access to this important resource for the entire UCI community. More information about HathiTrust ETAS can be found at https://www.lib.uci.edu/hathitrust-emergency-temporary-access-service. If you have questions, email us at circadm@uci.edu.
What do I do if I still have questions?
Email us at circadm@uci.edu.