Special Exhibit | Korean Comfort Women and the U.S. Discoveries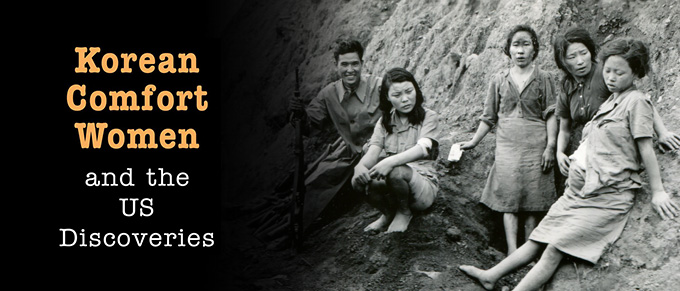 Korean Comfort Women and the U.S. Discoveries is a UCI Libraries sponsored exhibit that highlights the newly discovered U.S. archival materials on Korean comfort women with supporting documentary film clips and book displays.
The discoveries also include some U.S. Army interrogation reports of Korean comfort women captured along with the Japanese POWs, which provides proof and a rare glimpse into the systematic management of comfort stations and the procurement of Korean comfort women by the Japanese colonial government in Korea and the Imperial Japanese military. 
Since the Korean comfort women issue was first raised in 1991, breaking a fifty-year silence, it has attracted scholarly as well as public attention internationally.  The documentary clips and the books and videos displayed in this exhibit further documents violations of women's human rights, which are common in war time and continue in other parts of the world even today.
This exhibit is sponsored by UCI Libraries. We thank Professor Chin Sung Chung Research Team and Professor Sung Hyun Kang for sharing the discovered materials from the National Archives and Records Administration (NARA).  This exhibit is produced in collaboration with them and Professor Chungmoo Choi, UCI Department of East Asian Studies and the Center for Critical Korean Studies.  The library collections exhibited are curated by Dr. Ying Zhang, Research Librarian Asian Studies, and UCI Libraries' Korea Foundation Intern Sukim Bae.
To view the exhibit bibliography, please click here.
This exhibit includes content that may be sensitive to some viewers; discretion is advised.
To learn more about War and Women's Human Rights, please consider attending a free film screening on Thursday, June 6, 2019 at 6 p.m. in the UCI Crystal Cove Auditorium. For event details, please click here.
Korean Comfort Women and the U.S. Discoveries will be on display until December 1, 2019 in the Science Library in Room 261 located near the entrance to the Grand Reading Room during regular library hours.
For more information on the exhibit please contact Dr. Ying Zhang at yingz@uci.edu. For information on scheduling a group visit, please contact Carlin Motley at cmotley@uci.edu.