Expanding our Capacity to Improve Lives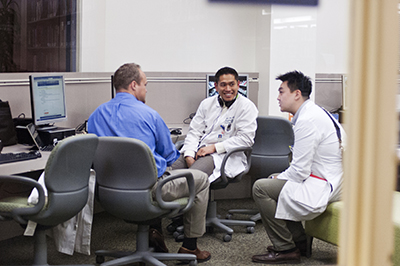 In support of Pillar 1, The UCI Libraries strive to Accelerate Research Progress and Societal Impact
---
UCI
Expand the number and impact of UCI Faculty; Increase research expenditures to $500 million annually; Expand the quality and impact of UCI Health; Create opportunities and infrastructure for convergence science; Develop, support, and promote new comprehensive research initiatives that shed light on social Problems and address regional and global grand challenges; Make pervasive the impact of art, culture, creative expression, and humanistic inquiry to our broader research and educational mission.
UCI Libraries
Enhancing the global visibility, reproducibility, and societal impact of UCI's research by providing leadership in the creation and implementation of enabling technologies and services that facilitate effective management, sharing, discoverability, and preservation of research output.
Contributing to the development of UCI's research cyberinfrastructure and embedding librarians throughout the research lifecycle.
Optimizing collections, resources, and services to best meet UCI's research, teaching, and patient care related needs while contributing to the rich information resources of the systemwide UC Libraries and California Digital Library.
Enriching UCI's intellectual and social life through exhibitions, events, and programs.