Making Regional and Global Connections that Enhance Our Mission and Serve the People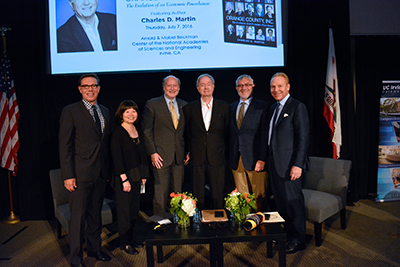 In support of Pillar 3, The UCI Libraries will Expand Community Connections.
---
UCI
Build an engagement culture; Become a stronger partner with community organizations; Partner with Orange County to develop a national model for how to live responsibly and well in the 21st century
UCI Libraries
Actively partnering with the Orange County community to increase the breadth and accessibility of regional history resources and preserve the legacy and experiences of the region's diverse individuals and communities.
Engaging the community through friendly services, welcoming public spaces, and relevant exhibits and events.
---
UCI
Create a powerful Anteater-for-life ethos that promotes ideal and sustained student and alumni participation
UCI Libraries
Strengthening the relationship between current Anteaters and the UCI Libraries by enhancing the Libraries' central role in student life.
Encouraging alumni engagement by promoting participation in UCI Libraries' exhibits and events.
Sustaining UCI's sense of identity by preserving and documenting the evolving faculty, student, and staff experience.
---
UCI
More broadly communicate and translate UCI's discoveries and innovations
UCI Libraries
Highlighting the UCI Libraries' contributions to the evolution of scholarly communication land our foundational role in advancing research, creativity, teaching/learning, and quality patient care.
Actively preserving the rich documentation of UCI's accomplishments and ascendancy as a premier research university, so that future leaders and researchers can draw on this legacy when communicating UCI's success to the regional, national, and international community.
Ensuring that our unique collections and resources are discoverable and accessible to the global scholarly community.