Elevating the Student Experience to Prepare Future Leaders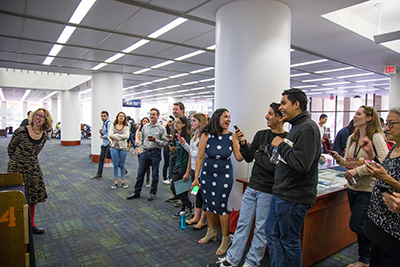 In support of Pillar 2, The UCI Libraries strive to Enrich Student Learning and Engagement.
---
UCI
Expand the Student body and make UCI a first-choice campus for students
UCI Libraries
Promoting active learning and collaboration through welcoming spaces and expert services.
Helping students develop necessary skills for success in higher education and the workplace, including lifelong learning, information literacy, and communication skills.
Making online and physical resources conveniently accessible to the entire UCI community.
---
UCI
Foster Excellence in teaching and learning, utilize modern technological tools to create the most effective learning environments
UCI Libraries
Supporting new forms of teaching, learning, and research through technology, services, and partnerships with faculty and campus units.
Empowering student growth, development, and academic success through face-to-face and online information literacy instruction, including targeted support for research-intensive classes and individualized consultations.
---
UCI
Integrate Student Life with Educational Experiences
UCI Libraries
Encouraging student learning and engagement through library programs.
---
UCI
Ensure that UCI's educational opportunities are an engine for social mobility, impact and positive innovation; Build on the success of UCI's Campuswide Honors program by considering a new honors college
UCI Libraries
Supporting first-generation, underrepresented, undocumented, transfer, veteran, international, honors, and other unique student populations through targeted engagement.
Contributing librarian expertise and support for the planning of a potential Honors College.