Forging Best Practices to Power the Coming Century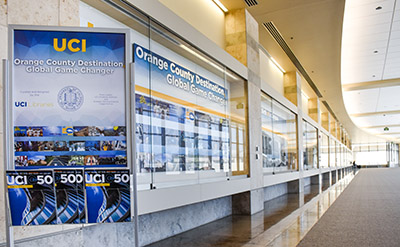 In support of Pillar 4, The UCI Libraries strive to Pursue Organizational Excellence.
---
UCI
Bolster and position staff to more effectively support the academic mission
UCI Libraries
Attracting and retaining exceptionally qualified library personnel to lead growth, achieve academic excellence, and be responsive to change.
Providing robust professional development, workshops, and trainings to develop a workforce that is well-positioned to contribute to the success of UCI's faculty, students, and staff.
Promoting diversity and pursuing inclusive excellence.
---
UCI
Expand, build, and maintain an excellent physical infrastructure
UCI Libraries
Engaging with faculty and students to ensure that our infrastructure meets their evolving needs.
Providing comfortable research and study spaces that promote engagement and learning.
Ensuring that the UCI Libraries' infrastructure supports long-term preservation of our general and unique library materials.
---
UCI
Ensure a high-quality ubiquitous, secure, and robust information technology infrastructure
UCI Libraries
Providing information technology resources and services that meet or exceed our stakeholders' needs.
---
UCI
Develop a sustainable financial plan; Make fundraising a central feature of our academic planning and leadership culture
UCI Libraries
Diversifying financial resources through the pursuit of grants and gifts.