Current Exhibits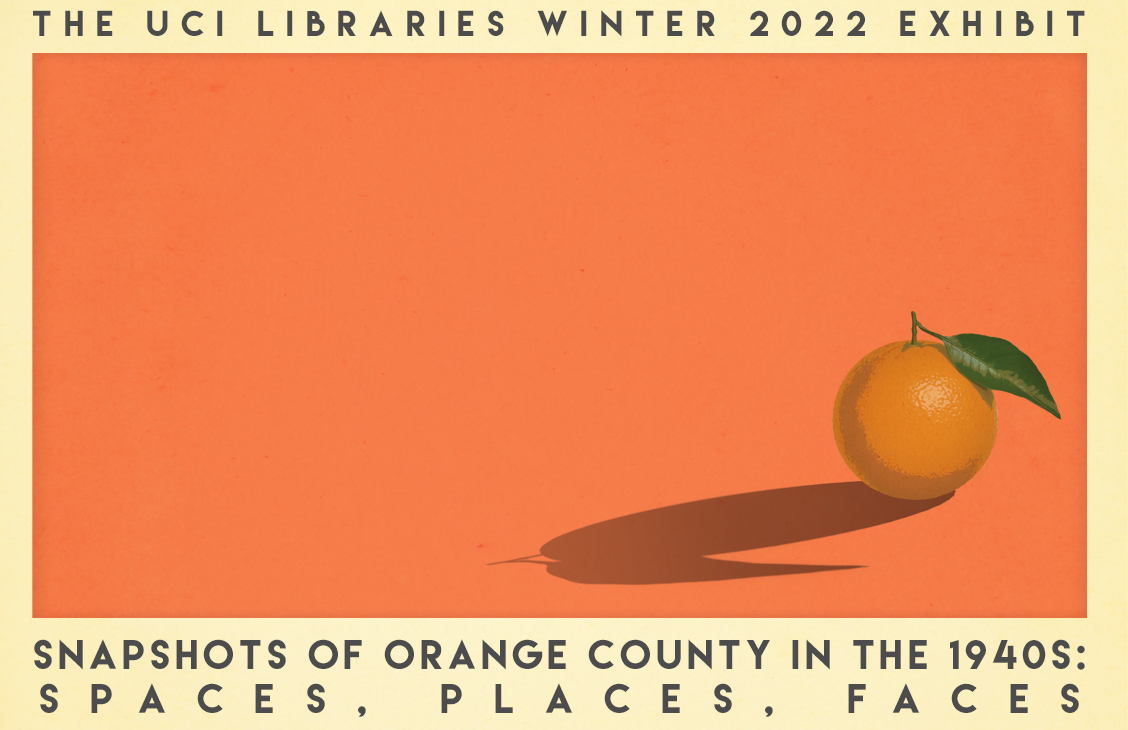 2022 Exhibit | Snapshots of Orange County in the 1940s: Spaces, Places, Faces
To learn more about this exhibit and to plan your visit, please visit lib.uci.edu/snapshots.
Snapshots of Orange County in the 1940s: Spaces, Places, Faces exhibit, presented by UCI Libraries, explores the cultural, economic, and political landscape of Orange County from its inception through World War II. While multicultural groups were setting roots before the war, military installations brought soldiers from all over the country to Orange County, changing the demographics, cultural norms, and expectations. This exhibit shares the stories of the spaces, places, and faces that transformed rural Orange County to a thriving metropolis. 
Snapshots of Orange County in the 1940s: Spaces, Place, Faces was curated by Nicole Arnold, Research Librarian for Student Success and Instruction; Cynthia Johnson, Head of Reference Department and Grunigen Medical Library; John Sisson, Research Librarian for Biological Sciences; and Krystal Tribbett, Curator for Orange County Regional History and Research Librarian for Orange County. The exhibit was designed by Allan Helmick, Sylvia Irving, and Luisa Lee.
This exhibit will be on display during regular library hours starting February 2, 2022 through mid-October 2022.
The UCI Libraries Exhibits Program promotes the diverse holdings and scholarly and cultural value of the Libraries' collections to the campus and community.
Current Online Exhibits
Past Exhibits
From I-Ching to Manga: UCI's East Asian Collection Celebrating 30 Years
Fall 2020 - March 2022 | Online Exhibit | Online Event Series | Exhibit Checklist
Finding the Edge: The Work and Insights of Edward O. Thorp
Fall 2019 - January 2022 | Online Exhibit | Event Photos | Brochure | Exhibit Checklist
UCI Law Stories: Past, Present, and Future
Spring 2019 - November 2019 | Event Photos | Brochure | Opening Night Program Video
Donald McKayle: Dancing for All Time
Fall 2018 - March 2019 | Event Photos | Brochure | Opening Night Program Video
Costuming the Leading Ladies of Shakespeare: From Stratford to Orange County
April 2018 - November 2018 | Event Photos | Brochure | Exhibit Checklist
Our Majestic Lands: California's National Parks
February 2017 - February 2018 | Event Photos | Brochure
Striking a Balance: Conservation and Development in Orange County
October 2016 - May 2017 | Opening Night Event | Brochure | Event Photos
Ready, Set, ZOT!: UCI Athletics Since '65
September 2015 - April 2016 | Opening Night Event | Brochure | Event Photos | The Big West Conference Video Highlight | 50 Years of UCI Athletics Video
Through the Discerning Eyes: Origins and Impact of Critical Theory at UCI
April 2015 - August 2015 | Opening night event | checklist (pdf) | Presentation | Brochure (pdf) | Event photos
From Bean to Brew: Coffee and Culture
November 2014 - March 2015  | Opening night event | checklist (pdf) | Presentation | Brochure (pdf) | Event photos
Healing U: Health Education at UCI
April 2014 - November 2014  | Opening night event | checklist (pdf) | Brochure (pdf) | Event photos
Open Air & Light: Art in Laguna Beach, 1906-1941


October 2013 - April 2014  |

Opening night event | Presentation | checklist (pdf) | Brochure (pdf) | Event photos | OC Register Article
Igniting Innovation: UCI Knowledge at Work
May 2013 - October 2013 | Opening night event | event photos | checklist (pdf) | brochure (pdf)
Gold to Gigabytes: The Past, Present, And Future of Money
October 2012 - April 2013 | Opening night event | event video | event photos | checklist (pdf) | brochure (pdf)
Hope of Freedom: Project Ngoc's Decade of Dedication
April 12 - October 2012 | Opening night event | event video | event photos | checklist (pdf) | brochure (pdf)
Discovery of a Lifetime: F. Sherwood Rowland and the Ozone Layer
November 11 - April 2012 | event video | checklist (pdf) | brochure (pdf) | event photos
Irvine: the Vision, the Plan, the Promise
May 2011 - October 2011 | presentation Low-res, Hi-res | brochure (pdf) | event photos
Puttin' on the Glitz: Hollywood's Influence on Fashion
October 2010 - April 2011 | presentation | checklist (pdf) | brochure (pdf) | event photos
Green Evolution: Creating a Sustainable Future
May 2010 - October 2010 | presentation | checklist (pdf) | brochure (pdf) | event photos
So Simple a Beginning: 150 Years of Darwin
October 2009 - May 2010  | online exhibit | presentation | checklist (pdf) | brochure (pdf) | event photos
Shanghai's Two Faces: Cosmopolitanism and Glocalization
April 2009 - October 2009  | online exhibit |  presentation: pt. 1, pt. 2 | checklist (pdf) | event photos
Immigrant Lives in "The OC" and Beyond
November 2008 - May 2009 | online exhibit  | audio presentation: pt. 1, pt. 2 | checklist (pdf)
Stage to Stage: The Theatrical Work of Robert Cohen
April 2008 - November 2008 | online exhibit | audio presentation: pt. 1, pt. 2 | checklist (pdf)
California Universities Building Amistad: The UC-Cuba Initiative
November 2007 - April 2008 | checklist (pdf)
Surviving War, Surviving Peace: The Central Highlanders of Vietnam
May 2007- November 2007 | checklist (pdf)
Picture This: Five Centuries of Book Illustration
November 2006 - May 2007 | checklist (pdf)
The War Within: Dissent During Crisis in America
May 2006 - November 2006 | online exhibit | checklist (pdf)
Under Construction Indefinitely: 40 years of Designing UCI
November 2005 - May 2006 | online exhibit | checklist (pdf)
A SEAA of Memories: Our Changing Southeast Asian American Communities
June 2005 - October 2005 | checklist (pdf)
From Papyrus to Digital: UCI's Thesaurus of Ancient Greek Texts
November 2004 - May 2005 | online exhibit | checklist (pdf)
Gestures of Life: Martha Graham's Legacy Through the Lens of Barbara Morgan
May 2004 - October 2004 | checklist (pdf)
A Throw of the Dice: Artists Inspired by a Visual Text
November 2003 - April 2004 | checklist (pdf)
Building Special Collections: New Librarians Highlight Recent Acquisitions
May 2003 - October 2003 | checklist (pdf)
Beauty and Meaning: Art and Poetry in the Book Arts of Mexico
November 2002 - April 2003 | checklist (pdf)
Derrida/Translating/Derrida
April 2002 - November 2002 | checklist (pdf)
Are We There Yet? Vacationing in California, 1870-1940
November 2001 - April 2002 | checklist (pdf)
Picturing Californios: An Orange County Family Photograph Album, 2001
Annis Case | checklist (pdf)
Realms of the Sacred in Daily Life: Early Written Records of Mesoamerica
March 2001 - September 2001 | online exhibit
The Legacy of Silence: A Japanese American Story
May 2000 - October 2000
Never Stop Asking "Why?": Federick Reines A Life in Physics
January 2000 - May 2000
To Outdistance the Page: California's Renaissance in Poetry and Printing 1950-1975
May 1999 - October 1999
A Gardener's Dual Delight: The UCI Arboretum and The Emma Menninger Rare Book Collection
June 1999 - October 1999 Science Library
Documenting the Southeast Asian Refugee Experience
Oct 1998 - April 1999 | online exhibit
Infinite Journey: Donald McKayle's Life in Dance
May 1998 - September 1998 | checklist (pdf)
Dances Divine and Demonic: Japan's Performing Arts
Fall 1997
From Ranchos to Real Estate: Orange County's Early Years
Winter/Spring 1997
Other Exhibits
Abraham Trembley: A Pioneer in Developmental Biology
An exhibit of the gifts donated by Howard and Sylvia G. Lenhoff on display in the Science Library 1st floor lobby.
East Asian Languages & Literatures - Book Exhibits
Hmong Textiles